A short history of POS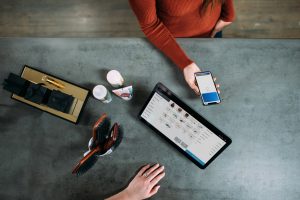 A point of sale system is a digitalised area where retail transaction takes place. The more integrated these systems are, the better they function. Prior to point of sale systems, the maths, inventory and sales parts of the business were all done by hand. This would lead to lots of human error and it isn't until the 70s that we can see the first pos system come into force. This blog post will provide a quick history of point of sale systems to educate you on one of the most important inventions of our time.
In the 70s
The very first system was developed in 1973 by IBM. As a new system with peer-to-peer communication allowed staff to be more creative. Customers could now order at the till and, with a digital copy of their order, their food would then be delivered directly to their table. The new point of sale systems allowed you to add Vat, log sale items and work both out at the touch of a few buttons.  Being a shop assistant was no longer specialised labour, per say, due to the equipment.
In the 80s
Point of sales systems in the 80s became widespread, with most retail outlets owning a point of sale system. As most shops had access to these systems, everything became more streamlined. Efficiency within shops improved dramatically and with it, consumerism grew.
In the 90s
As computers became common in the workplace, point of sale became more computerized. It became even easier to work in a shop due to everyone's shared knowledge of computers and the ease of the system.
In the 00s and beyond
Onto the current day, cloud-based POS is becoming more popular in shops meaning efficiency and ease have never been better. The use of tablets in shops means locating stock no longer takes 20 minutes but happens at the tap of a screen. Additionally, contactless payments and google pay makes it easier for consumers to pay.
As we move towards a truly cashless society, the point of sale system has become a lot more defined and functional. The transaction of money has become a lot easier for both consumers and retail workers making the shopping experience more enjoyable for both.